Nothing is more vital to every aspect of Florida life than water. Boasting the country's largest estuary system, Florida has roughly three million combined acres of bays, lagoons, tidal streams, and wetlands, all of which are interconnected, eventually converging along the coastline where salt and fresh water come together. The mixture of salt and fresh waters produce an abundance of nutrients that nourish plants, fish, and animals that live in these waterways.
For homeowners who have waterfront homes, the plants you choose for your property may minimize flooding and storm runoff while protecting the ground against soil erosion. Many favorite plant and flower species reproduce so vigorously that Florida regards them as invasive species. The best way to make sure you're not mistakenly choosing the wrong plants is by hiring a team of professionals to handle your landscape installation.
We've come up with some colorful flowering and unusual foliage plants that are ideally suited to the banks of your freshwater property. Our suggestions comply with the recommendations of the Florida-Friendly Landscaping™ Program.
Golden Canna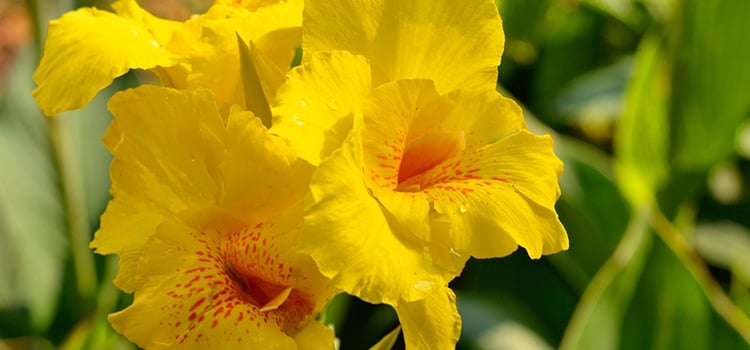 Golden Canna or Canna Flaccida, is a flowering plant that is both a native aquatic plant and a plant that's indigenous to Florida. This water-loving plant is recognizable by its 3-inch flower clusters that emerge from a stem that grows to about four feet tall. You'll find golden canna at the edge of marshland, lakes, and ponds. Many hybrid species of cannas are suitable for water. They grow from large rhizomes that send out shoots that later become new rhizomes.
Blue Flag Iris
Blue Flag Iris or Iris Virginica is a native Florida plant that typically grows along the banks of freshwater ponds, streams, or against retention areas where its clumping growth habit has a stabilizing effect.
One of the characteristics of Blue Flag Iris that makes it so useful for waterfront properties is the fact that it can also grow in garden soil. Although Blue Flag Iris can grow in full sun, it prefers partial shade. Expect to see brilliant purple flowers throughout the spring. It's long leaves add interest to the waterfront throughout the rest of the year
Coral Honeysuckle
Lonicera sempervirens, which is commonly known as Coral Honeysuckle, or Trumpet Honeysuckle, gets its name from the shape and color of its flowers. You'll find this lovely flowering plant in areas around floodplain forests, so it's well-suited to waterfront property. It grows throughout the state and all of the Northeastern parts of the United States.
The trumpet-shaped flowers are a rich source of nectar, and the coral color is easily recognizable to hummingbirds. It blooms during spring and summer. Because of its vine-like growth habit, it is the perfect plant to choose to grow along a waterfront fence or waterside pergola.
Arrowhead Plant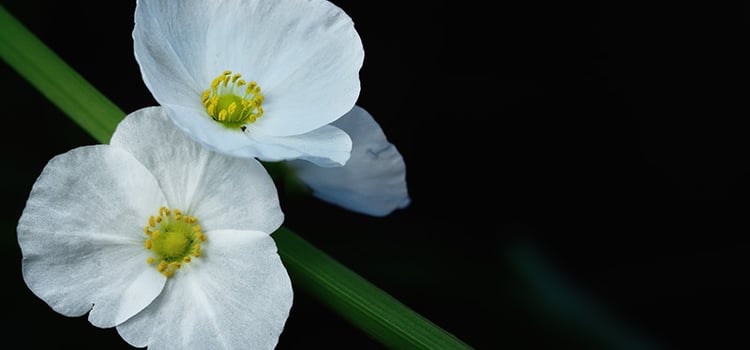 Arrowhead, known by its botanical name Sagittaria latifolia, grows in shallow waters near the coastline. In addition to this species, many other Sagittaria species are native to Florida. Arrowheads are easy to recognize because of the distinctive shape of their leaves. In some circumstances, leaves can grow as long as a foot, and as wide as 8 ½ inches. Arrowhead is an easy-to-grow, low maintenance plant. Arrowheads can also grow as houseplants.
Duck Potato
Duck Potato, or Sagittaria lancifolia, doesn't have anything to do with potatoes, except for the bulbous stems that develop corms that resemble potatoes. It is the largest species of arrowhead plants. It grows in shallow water, including ditches, swamps, lake margins, and stream margins. Leaves can grow as long as two feet, and they spread to a width of four inches. Their lance-like leaves surround the long stems from which large white flowers emerge.
Look to the Landscape Installation Experts to Help You Protect Your Waterfront Property
Save yourself the guesswork of trying to figure out what plants are best suited to your waterfront property. Whether you're growing them along a lake, canal, or estuary, you don't want to plant something that could harm our precious eco-system.
Are you ready to discuss your residential landscape installation needs? You can reach our Panama City Beach office at (850) 236-1959 or our Santa Rosa Beach office at (850) 267-0010. Or, you can fill out our handy online form to schedule a free consultation. And be sure to kick off your planning (and dreaming!) process by downloading our free Landscape Planning Guide below.