Add Drama to Your Landscape
Perfectly placed landscape lighting is a statement that gives well-groomed properties a high-end, luxury appeal that you just can't achieve any other way. The right lighting also adds increased safety, day or night functionality and the ability to guide the experiences of residences and guests.

Start with the basics. Add simple landscape and path lighting, in addition to street lighting, to make your outdoor spaces safer and more welcoming, anytime. Then, add onto that foundation with designer uplighting or downlighting of your landscape's best features and truly sets your property apart with a luxurious, high-end look.
Whether you're creating safe, comfortable spaces with ambiance or designing focal points that add visual drama, professional lighting helps to take your property to the next level and attract residents.
Our dedicated commercial landscape lighting team has the expertise and equipment to get the most out of your commercial property with the perfect lighting scheme. We're able to visualize how it's all going to come together, how to meet your goals, then exceed what you thought was possible with the right artfully-placed lighting accents.
A Brighter Path to Better Landscape Lighting
Quality Products
Our experts encourage using the highest-quality, low voltage LED lighting for superior safety, great warranties and longer lifespans.
Inclusive Installation by our Dedicated In-House Experts
Our highly-trained and dedicated team can do it all, from design to installation and maintenance. So you won't have to work with multiple contractors or amateurs. We have the experience and the trained eye to help you determine where uplighting or downlighting would look best. Knowing where to place each bulb is an art. Collaborating with experts makes all the difference in achieving a show-stopping finished design.
Regular Audits and Maintenance
Our team performs audits and evaluations both quarterly and as part of your maintenance contract. Each light is manually inspected, ensuring the bulbs work and that shrubs, straw or new growth don't block lights. This critical component to premium landscape lighting is often overlooked leading to quick degradation of your original design.
Our Professional Landscape Lighting Services
Path lighting
Strategically placed lights along pedestrian walkways for increased safety and function during evening hours.
Uplighting
This popular accent lighting technique shines light upward, highlighting the underside of trees and other landscape features.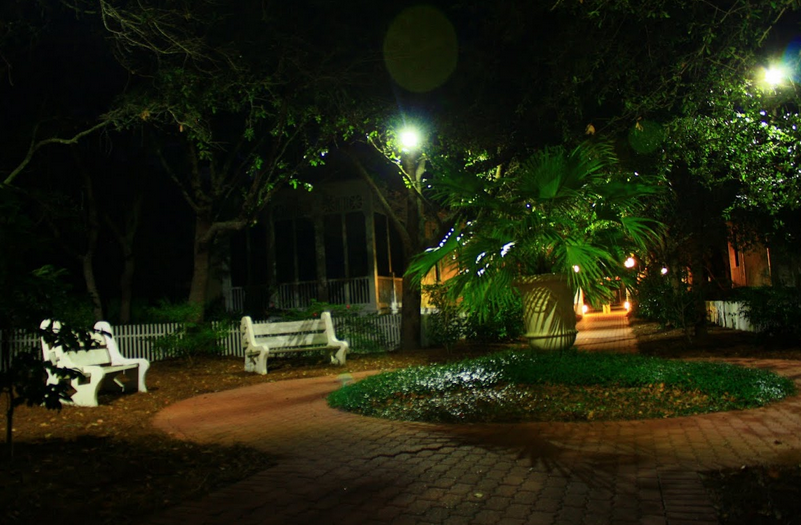 Downlighting
This technique mounts lights in or above trees and other landscape features, shining light down to create obstruction-free path lighting, shadowy drama and a moon-light effect.
Recessed Lighting
Recessed lights can be placed in grounds, in walls or in the exterior of buildings for a range of uplight, downlighting and path light uses, from subtle pools of light to striking spotlights.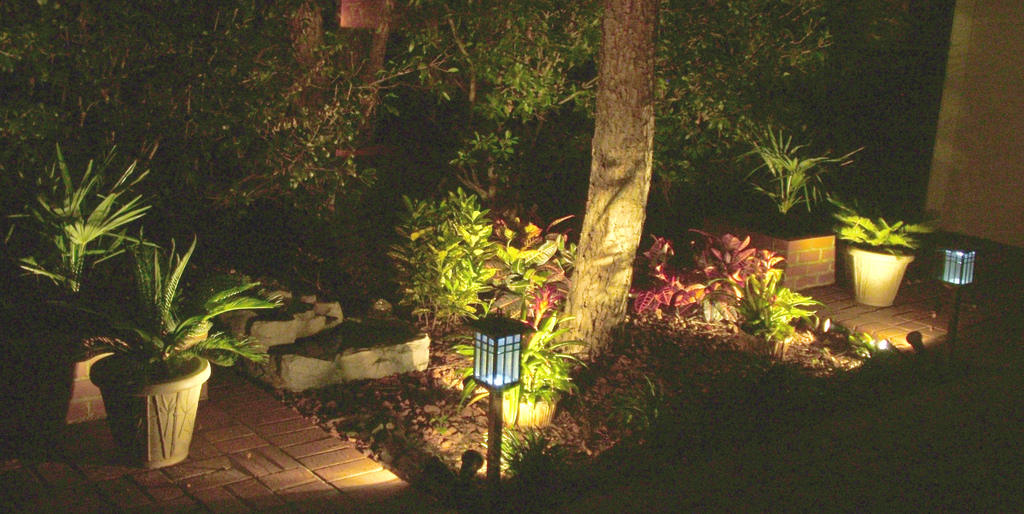 Post lights
Soft light coming from decorative posts can be placed strategically throughout your property to light paths, entryways and important areas with distinct style.
Ready to get serious about your landscape plans?
Let's work together to transform your ideas into something beautiful. Whether you're starting from scratch to create an outdoor living paradise at home, need landscape design/build help on your commercial property, or are looking for regular landscape maintenance and lawn care, this is the place to begin.