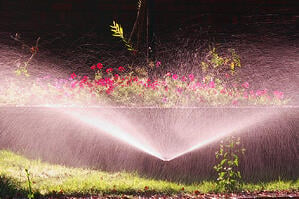 July is Smart Irrigation Month, a good reminder to check out your irrigation system to make sure you're maximizing its benefits. An irrigation system in top condition will make plants grow better and save water (and money).
Here's a look at ways to be smarter about how you water your Florida panhandle landscape.
Sprinkler Maintenance
Turn on your sprinklers by zone to see how they're working.
Are the pop-up sprinkler heads actually popping up? Sometimes they get stuck in the down position and may be damaged. If they are watering the lawn from the down position, they could be drowning the landscaping near it, while ignoring the rest of the lawn.
Are the sprinklers leaking from the middle? The sprinkler might need a new seal.
Are there puddles of water in one or more parts of the lawn? You could have a pipe leak, sending water out below the ground.
Are the sprinkler heads shooting out water at the appropriate pressure and location? Much like a shower head, spray sprinklers emit water in a fixed pattern, while rotor sprinklers turn while spraying. If there are clogged nozzles, the water won't make it through that section, and parts of your lawn may not be getting proper hydration. Try cleaning the debris out the sprinkler head, or replace it with a new one.
Is the whole lawn covered when the sprinklers are on, or are there gaps? If there are gaps, you may need to adjust the pressure.
Are the sprinklers watering the right areas? If you have something in the way, whether it's a bush, a wall, walkway or something else, you may be wasting water or making it difficult for pedestrians to get through.
Reclaimed Water
A lot of Florida properties, both commercial and residential, use reclaimed water, also known as recycled water or gray water. While the definitions for each of these may vary, know that reclaimed water is a way to conserve fresh (or well) water drinking supply, which in states like Florida is in short supply.
Reclaimed water goes through wastewater treatment plants, with state-set standards to make its use in watering the lawn – among other its uses – safe. This type of water comes to your property in purple pipes, to differentiate it from well water, and your sprinkler head tops should also be purple, so you'll know at a glance.
Reclaimed water isn't good for drinking or swimming, so if your landscaping uses it, you have special sprinkler maintenance needs`. Reclaimed water contains more salts and minerals. This means that your irrigation system may need intake filters to prevent algae and clogged nozzles.
Just like with well water, you want to make sure you're not spraying anything but the intended landscaping target. You also want to make sure that the water is soaking in and not pooling, which could mean adjusting the sprinklers. These tips are actually more important for reclaimed water, because it's not as pure as fresh water.
Have questions about how reclaimed water works, or how to incorporate it into your irrigation system? GreenEarth's irrigation professionals can provide answers and help.
We'll Help You Be Smarter
Many irrigation system maintenance tasks can be done by a homeowner or commercial property owner, but it's our job. GreenEarth can be a resource for all your landscape needs, during Smart Irrigation Month and beyond.
Call at our Panama City Beach office at (850) 236-1959 or our Santa Rosa Beach office at (850) 267-0010 if you'd like to set up an appointment to learn more.
You can also fill out the online form on our website to schedule a consultation.