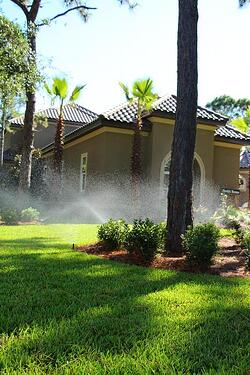 With some households using up to 50 percent of their home water consumption on landscaping, maintaining an irrigation system should be top of the priority list.
A well-functioning irrigation system means that the water spray is uniform, preventing brown spots or soggy spots in the grass. The water not only reaches its target (and only its target — no sense in watering the concrete!), but provides the right amount at the right time, keeping your grass and plants happy and lush.
With summer just ahead, we're nearing the peak watering season. Just like you get your pool and air conditioners ready for summer, you need to do the same with your irrigation system.
Here are six irrigation maintenance checks to perform on your Florida panhandle system before our peak watering season sets in.
Checks And Balances
Check your sprinkler heads to make sure they're properly aligned and level. Turn your sprinkler system on, watching for even spraying.

If you have a rotating sprinkler system, is it spraying the full spectrum it's intended to cover? Does it need adjustment to expand or limit the range?

Just like your faucet gets clogged with minerals and debris, so do sprinkler heads and nozzles. After turning on your sprinklers, do you see sections that aren't spraying properly? Is the water coming out in a uniform way?

Are all your sprinkler heads popping up? If they're stuck in the down position, you may end up with a small area of drip irrigation, or even none at all for that section.

Is your other landscaping blocking the water spray? When the sprinklers are on, look at where they're reaching. Maybe your tree branch and foliage grew during the winter and spring, and now blocks the sprinkler from watering the grass underneath. Or maybe the sprinklers need adjusting so they water the flowers, instead of the top of the nearby bushes.

Is your house in the way? Unless you live in a mobile home, you probably can't move it (and even most mobile homes are supposed to stay put). But you can adjust your sprinklers so they don't water your windows or siding.
Get Expert Help
Part of getting your irrigation system ready for peak watering, means knowing how often to water. We at GreenEarth can help you determine how much water your lawn needs, and the best times to program the sprinklers to run for maximum water absorption and for your lifestyle.
Many of our clients have found that hiring an expert who knows the equipment, as well as the local watering needs, is the best solution. We can perform a sprinkler system spring cleaning, so to speak, and regular maintenance to keep your irrigation system working properly and effortlessly.
As part of our audit, we'll inspect all the system components, including the piping, pumps and sprinkler heads. We'll let you know what we find, whether it's a system we installed or one that came with your house.
Give us a call at our Panama City Beach office at (850) 236-1959, or call our Santa Rosa Beach office at (850) 267-0010 to set up an appointment. You can also fill out our online form to schedule a consultation.