Whether your home has a large yard or none at all, container plants are a great addition to inject color, height and diversity to the landscaping. Containers come in sizes large and small, and can be focal points on their own or in groupings.
Hanging planters add color at eye level, and you can buy decorative wire racks that stagger planters at various heights and take up little room.
When planning out your container gardens, you'll want to think about similar landscape issues as you would for an in-ground garden. If you use a large plant that grows straight up, consider surrounding it with plants that trail over the container's side. Mix flowering plants with those just containing decorative foliage. Just make sure that all the plants in your container have similar needs for water, light and fertilizer.
What plants work well in containers and are also friendly to Florida's climate? Fortunately you have many to choose from. Here are some of GreenEarth's favorite container plants for Florida gardens.
Drought-Friendly Container Plants
Given water conservation needs in Florida, drought-friendly plants are a good choice for containers, especially since these enclosed spaces tend to dry out more frequently than plants in larger soil areas.
Try out succulents like the kalanchoe species. These tropical plants come in more than 125 species, some with beautiful flowers. They require little water and are often planted with cacti.
Flowering Container Plants
Lots of flowering plants that grow well in Florida soil are also good for Florida container gardening. Take a look at the bush daisy, which has year-round blooms and attracts butterflies. You can get the cape daisy in a range of colors, and it's both heat and cold tolerant, good in sun or shade. Another option is trailing lantana, which butterflies like as well. It comes in a variety of flowering shades and is good for drought conditions. Related to petunias, the calibrachoa (million bells) can be planted in many colors and grow well in both cool weather and heat.
These flowering plants are not frost-hardy, though — be sure to bring your containers inside when winter weather begins to set in.
Foliage Container Plants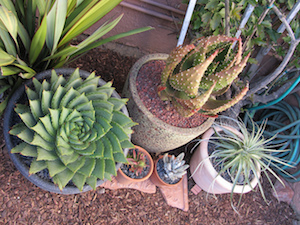 It's fun to mix in plants that don't flower along with those that do. One pretty option is the devil's backbone, which is a type of succulent. Its large leaves are green and white, with hints of yellow.
Also attractive is the Persian shield plant, which grows tall and has green leaves with purple or silver designs.
Herbs For Container Gardens
Growing your own herbs is a productive way to use containers, since they're pretty to look at and you can save money by growing your own. Figure out which ones you'd like to have for cooking at home, like basil, dill, fennel, parsley and sage.
You can mix several in a container since they don't need much room individually.
Trees In Containers
Trees can give height to a container garden, adding texture and a substantial planting to your patio or door entrance. The Lady Palm works well, usually topping off at 6 to 10 feet, and growing well in shady spots. Have your own small Florida citrus container garden by growing a dwarf tree or smaller varieties of lemon or lime trees. A more exotic Cavendish banana tree grows well in containers too.
GreenEarth Has Lots Of Container Ideas
If you want advice on what types of plants to add to your containers, or you want this element mixed into a full landscaping plan, we can help.
Give us a call at our Panama City Beach office at (850) 236-1959, or call our Santa Rosa Beach office at (850) 267-0010 to set up an appointment. You can also fill out the online form on our website to schedule a consultation.