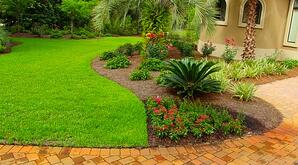 We waste a lot of water, especially when it comes to our yards. Did you know that up to half of the water used in landscape irrigation is ultimately wasted?
That's right. A third of the average homeowner's water use is dedicated to landscape irrigation, and fifty percent of that is wasted.
We got a great reminder of these stats last month — July was designated Smart Irrigation Month — but in Florida, there's never a bad time to talk about how to be smarter and more efficient with our landscape irrigation!
The benefits of efficient irrigation extend far beyond helping the environment (although that should be enough to make you consider watering smarter). It also helps you save money and actually helps your plants look better — overwatering can hurt your plants almost as much as under-watering them!
Here are four tips for smarter irrigation that will help save you money and keep your Florida panhandle property looking healthy and green.
Irrigation tip #1: pick Florida friendly plants for your landscape
We've written in the past about Florida Friendly Plants. Choosing plants that are native to Florida (or at least suited to the region's correct AHS heat zone) naturally thrive in this environment year round typically.
These plants will require less water from the start — or will at least have similar watering requirements in the end.
Irrigation tip #2: group similar plants together
Tied to the previous point: plant varieties that have similar watering needs together. That way, you'll take some of the guesswork out of watering, no matter what type of irrigation system you use.
By the way, if you're looking for a professional opinion on choosing plants — or finding ways to group them together — give the landscaping pros at GreenEarth a call!
Irrigation tip #3: update and maintain your irrigation system regularly
This may seen like a no-brainer, but like any landscape installation, an irrigation system requires a bit of regular upkeep. If your sprinkler system isn't working properly, you could be wasting up to 25,000 gallons of water every season.
Consider using products designated with the EPA's WaterSense label, assigned to products with water-saving properties. There are also smart controller systems available to save water by analyzing weather data and directly measuring your soil moisture. Drip irrigation is also great for conserving water for certain types of plantings.
Irrigation tip #4: Don't shy away from using mulch
It's easy to see mulch as a landscape afterthought, but it's actually a natural barrier that helps conserve moisture within the soil and keep soil temperatures low around plants' roots.
Mulch adds uniformity to your landscape beds and other areas, with the added bonus of cutting down on erosion and weed growth!
And here's a bonus tip: Hire someone with experience working with irrigation. Someone like GreenEarth Landscape Services, for example!
Our irrigation professionals will visit your site in Panama City Beach, Panama City, Lynn Haven, Santa Rosa Beach, Destin, Sandestin or Mirimar Beach, Florida, and perform a full audit of the property to help you design an irrigation system that's efficient and keeps your landscape lush and healthy.
The right irrigation system for you should work well, help you keep your property beautiful and save you money wherever possible.
Let's get started! Call our Panama City Beach office at (850) 236-1959 or our Santa Rosa Beach office at (850) 267-0010. You can also fill out the form on the right to set up a complimentary consultation visit.