Living in Florida, a lush green lawn is a given. Sometimes problems occur between landscaping service visits, and sometimes you might not even know there's a problem from looking at your turf.
What kinds of commercial landscape irrigation problems might you have and how will you know? Proactively addressing (potential) problems now will help save you from expensive headaches in the future. Here are five red flags that your landscape irrigation system is faulty.
High Water Bill
If your water bill jumps significantly and you haven't been running the water more than usual, it's time to do some detective work. You could have a leak inside your house or it could be outdoors, in one of the irrigation pipes.
An outdoor leak would likely reveal itself with a puddle of water in the grass or an area that's greener than the others. Walk around your property and do a visual inspection. Perhaps the leak is in an area you don't normally visit.
Brown Spots
Your lawn should be an even green color. If you have brown spots, there are a few causes to consider. You could have lawn disease. But it's possible that your landscape irrigation system isn't reaching that section of your lawn. It's time to test your sprinkler system to see what areas it's hitting.
If the water isn't reaching that brown spot, then you'll need to adjust the sprinklers or clean them out. Sprinkler head accumulate dirt and minerals over time, and there might be blockage preventing the water from reaching the proper zones.
Water In All The Wrong Places
You don't need to water your sidewalk. While sometimes a system must be set up to splay water in unneeded areas, it's best avoided for water conservation.
If your system installation was designed to spare the sidewalks but now they're getting drenched, your sprinkler heads need a tune up. Check to make sure they're cleaned out and functioning properly, spraying in the intended direction.
Timers And Run Times
If your sprinklers aren't going on and off at the proper times, one of the first things to check is the timer. If the timer is blank, then you'll want to check the power source, or you might need a new transformer or fuse. If the timer is properly powered up, perhaps the times need resetting.
A professional landscaper like Green Earth Landscaping Services can help you figure out the proper amounts of water your lawn needs, and how many watering cycles during the week would work. The time of day you water can make a difference too.
When determining the best time for your sprinkler to run, consider when the property will be least busy with pedestrians. It's no fun getting wet when you're not expecting it and you'll certainly hear from your tenants if the timing isn't good!
Misting
Instead of a steady spray of water, your sprinkler heads might be discharging a light mist instead. Your water pressure might be too high! Try adjusting the flow control on the remote control valve or install pressure regulators. If this sounds like we're speaking another language, give us a call to look at your sprinkler heads.
Sprinklers Are On During Rain Storms
Just like watering the sidewalks is a bad idea, watering your lawn when it's raining is also wasteful and unnecessary. Do you have a rain sensor? If you do, it's not working! If you don't have a rain sensor, consider getting one.
Rain sensors help regulate your landscape's irrigation by skipping or stopping the watering cycle when the sensor determines that enough rain is falling. This device not only conserves water, but extends your sprinkler's life span.
GreenEarth Can Get Your Commercial Landscape Irrigation Back On Track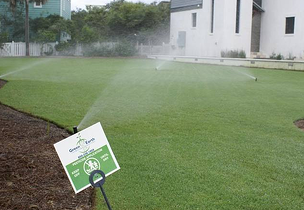 If you find these or any other landscaping red flags and irrigation issues, we can help. We'll help diagnose the problem and let you know how we can fix it.
Give us a call at our Panama City Beach office at (850) 236-1959, or call our Santa Rosa Beach office at (850) 267-0010 to set up an appointment. You can also fill out the online form on our website to schedule a consultation.
Images: Wet sidewalk, Major leak