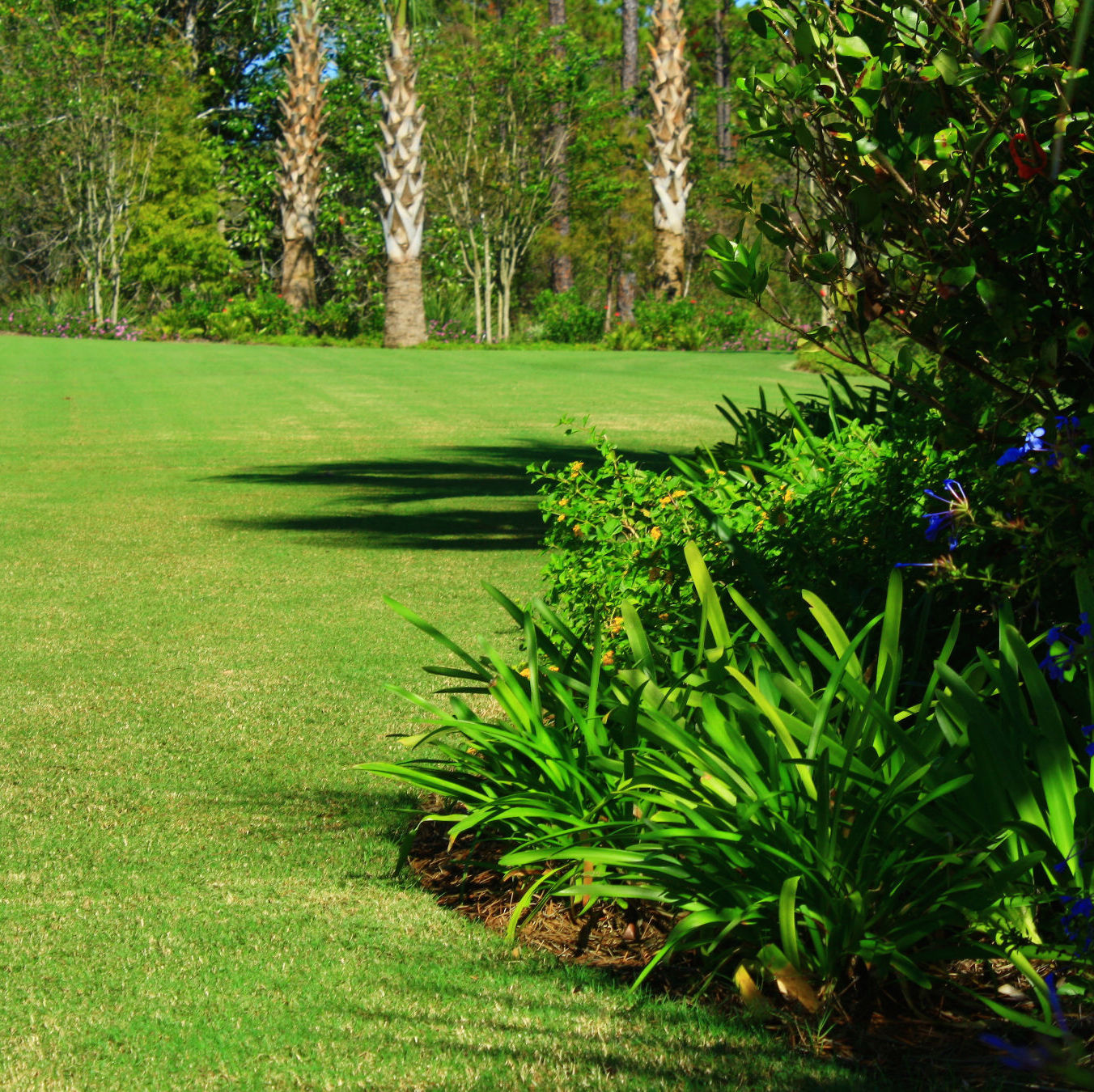 They say you can't have your cake and eat it, too. Honestly, we're not even sure what that means. But we're big fans of cake — and eating it. And think you should be able to do both.
So when our clients ask us whether it's possible to have a beautiful lawn without using a ton of chemicals that can endanger children, pets and the environment… We answer with an emphatic "YES!"
Here are some steps you can take to satisfy your desire for a lush, green, environmentally friendly swath of lawn.
Test Your Soil
Before fertilizing or adding any soil amendments, perform a soil test so you know precisely what is needed and in what quantities to promote a healthy lawn and prevent weed growth.
Not sure how to do a soil test or where to get one? Give us a call! A soil test is a great first step in a lot of landscaping projects, and we've got all the tools necessary to complete one for your Florida panhandle landscape.
Choose The Right Plants
Make sure the type of grass you're growing thrives in your area - and in the area of your yard where it's planted. A grass that requires full sun won't thrive in a shaded spot. Some grasses tolerate drought or foot traffic better than others. There are new, slow growing varieties of grass that are disease resistant reducing the need for pesticides, watering, and frequent mowing.
Not sure which variety to choose? Check with GreenEarth! We're lawn care experts — and we know the perfect types of grasses for your Florida panhandle landscape.
Compost
Fertilize your lawn using kitchen and yard waste. Composting is simply the process of recycling decomposed organic materials into rich garden soil. For a list of items that can be composted, read this. Some items on the list might surprise you.
Limit Use Of Chemical Pesticides
Not all insects in your garden are destructive!
Many insects are beneficial to lawns and flowerbeds. Before spraying insecticides willy-nilly, be sure you know what insects you're trying to eliminate and what products can do the job without causing harm to beneficial insects.
But sometimes chemicals are necessary! GreenEarth holds all necessary state licenses to apply chemicals, and our lawn care program takes care to be as effecient and gentle on Florida turfgrass as possible.

Let It Lie
Allow grass clippings to remain on your lawn after mowing. Clippings are beneficial - they are 90% water, decompose very quickly, and return nutrients to your soil.
Be Water Wise
Lawns require an inch of water per week throughout the growing season to remain green and lush. Many areas don't get that much rain and must use supplemental watering. To conserve water and to make certain the water you use provides the greatest benefit to your lawn, water early in the morning and water deeply.
Watering early in the day ensures you're not losing precious water to evaporation. It also ensures that your lawn won't remain wet throughout the nighttime hours, making it susceptible to fungus, pests, and disease.
Ask the landscape maintenance pros at GreenEarth about our moisture manager program, designed to help get your grass through the hot summer months.

Aerate
Make sure your lawn is sufficiently aerated to allow air, water, and nutrients to pass through the soil and become available to be taken up by the roots of your grass plants. Compacted soil is a welcome mat for weeds. Your landscaping professionals can aerate your lawn for you or you can rent an aerator at your local hardware store.
Eliminate Fumes
Finally, use an electric mower or push mower to cut down on air pollution.
Consult With The Professionals!
If you have questions about creating an eco-friendly lawn or would like assistance in doing so, contact the professionals at GreenEarth Landscape Services.
Call our Panama City Beach office at 850-236-1959, or our Santa Rosa Beach office at 850-267-0010. You can also fill out our contact form, and we'll get in touch with you.
Image credits: onion shoot, compost sign