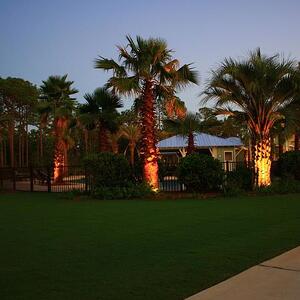 A brief history lesson: Lawns originated as symbols of wealth in royal and la-di-da circles in seventeenth century Europe. What better way to show off your wealth, the toffs thought, than to use some of your vast land holdings for a purpose other than producing food? Besides, lawns showed off castles to better advantage than wooded areas — the medieval version of curb appeal.
The backbreaking work required to maintain these vast lawns before the power mower was invented kept the peons busy and out of trouble, and made lawn bowling and croquet a whole lot easier to play.
The Benefits of Lawns
These days, many of us have love/hate relationships our Florida panhandle lawns.
Our lawns, however, really love us. Just look at what they do for us:
Lawns increase property values.

They give us somewhere pleasant to enjoy spending time outdoors with our families and friends. They provide our children and our pets a soft, safe place to play.

Of special note for those of us who aren't particularly fond of house cleaning, lawns trap more than 12 million tons of dust and dirt annually.

It's estimated that a 50-square-foot lawn releases enough oxygen for a family of four every day, while absorbing dust, pollutants and noise.

Lawns are great big air conditioners. According to a Mississippi State University study, a healthy front lawn has the same cooling effect as an 8.5-ton air conditioning compressor. A lawn area can be as much as 25 degrees cooler than an adjacent sidewalk, according to scientists. (And in the Florida panhandle, that can make all the difference!)

A healthy lawn prevents erosion and absorbs rainfall which it returns to to the water table where it becomes available for us to use.

The repetitive movement involved in mowing our lawns is calming and enhances our sense of emotional well being, and the aerobic activity of the chore enhances our health and physical well being.

Finally, what could be better than the smell of freshly cut grass when you're rocking on your porch enjoying a cold drink and admiring the great mowing job you did? (Except, perhaps, for rocking on your porch enjoying a cold drink while watching your teenager cut the grass.)
Thank Your Lawn!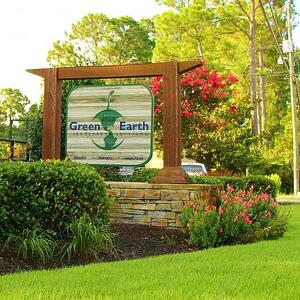 If your landscape contains lawn areas, just be aware that the benefits of having a lawn are greatly enhanced when those areas are well maintained and healthy. If your lawn should become too much trouble for you to care for properly yourself, you do have options.
You can always reduce your lawn area (and mowing and maintenance time) by installing new landscaping beds. Or, if you wish to maintain a lush expanse of lawn, you can bring in professional landscapers.
Whichever option you choose, a call to GreenEarth Landscape Services will ensure you've chosen the best possible partner in lawn care and landscape maintenance!
Get in touch with one of our landscape professionals to discuss creating a year round plan to keep your outdoor living spaces beautiful.
Call our Panama City Beach office at (850) 236-1959 or call our Santa Rosa Beach office at (850) 267-0010. Or fill out our simple contact form, and reach out to you directly.