The saying "you only have one chance to make a first impression" is true.
Whether you're trying to draw in new tenants to your Northern Florida commercial property, or you want to upgrade the experience for existing tenants and their customers, making your business entrance more dramatic and attractive is a great direction to go.
From Panama City to Destin, clients will ask us what they can do to make their commercial properties look better, and of course the answer varies depending on their individual building and landscaping.
But there are some commonalities to improving your property's appearance, and one great way to do this is by making your business entrance inviting and yet impressive.
Here are five of our favorite commercial landscaping ideas for business entrances.
Colorful Container Plantings
It's amazing what a beautiful plant can do to catch your attention, especially when in a unique container. With commercial properties, it's okay (and even preferable) to go big with containers to be eye-catching. Commercial buildings are already larger than residential properties, so an oversize container makes sense proportionately.
There's a wide array of styles that can either match a building's style or color, or stand out to make a statement. A commercial landscape design firm like GreenEarth can help you find a container that increases your entrance's "wow" factor.
Of course what you put in the container matters too. Like with larger landscaping areas, a variety of plants that are different sizes can spice it up — seasonally — making the container pop. You can also choose one substantial plant like a small tree or topiary; just make sure it's always perfectly trimmed.
Colorful Planting Beds
Color catches the eye and flowers are nature's candy. Mulched planting beds with blooming flowers keeps an entrance area looking fresh. Keep up with the seasons by keeping the flowers current. Think about coordinating petal colors, planted closely together for a solid blanket look, or opt for a color scheme.
Another idea to keep the entrance area dramatic is to plant patterns with the flowers. That could be planting them in the design of you building logo, a letter symbolizing your town name, or a design that's graphically pleasing, like a fleur-de-lys.
Updated Site Furnishings
Sometimes people want the option to sit outside the building entrance. Perhaps they're waiting for someone to meet them, or they want to get some Vitamin D in the beautiful North Florida weather during a work break. Installing some attractive site furnishings definitely makes a business entrance more inviting.
Benches are the most obvious option, whether they're made of teak, wrought iron or simple stone. The important thing is that they look good with the building and landscaping, and that they're maintained and cleaned regularly.
Walkway Maintenance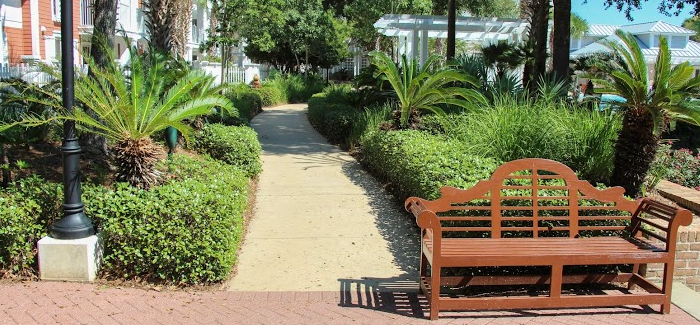 Whether your tenants and guests arrive at the front door on foot or by wheelchair, maintaining the walkway is paramount. Of course you want to make sure your visitors don't hurt themselves and that the walkway is attractive.
But it's also a liability issue.
As part of an effort to make sure the walkway maintains its safe surface, some of our clients upgrade or improve the walkway to increase its attractiveness too. We at GreenEarth can tell you about all the walkway options, from concrete to pavers, and what each needs in terms of maintenance.
Driveway
Your property may have a traditional parking lot. Or it may have a driveway very close to the entrance. Perhaps your building's main entrance is on a cul-de-sac, with a drop-off area in front.
To make the entrance more dramatic, consider using the island in the middle of the driveway as a palette, painting a picture with landscaping. Vary the landscaping height with tall and medium size trees, and shorter shrubs as well as flower beds.
Palm trees fit with the region, but also don't block the building's view. Flowering shrubs add unexpected color at different times of the year, while flowers complete the look at the base.
Let GreenEarth Make Your Business Entrance Impressive
At GreenEarth, one of our representatives can walk you through these ideas to see what makes sense for your commercial property. Unless you're starting from scratch with new construction, you likely already have some of these ideas in place.
When it comes to commercial landscaping ideas for business entrances, we can give you our expert opinions on how to improve your property's entrance to make it the most inviting for your visitors.
If you'd like a consultation or want to know what we can do to help you, give us a call at our Panama City Beach office at (850) 236-1959, or call our Santa Rosa Beach office at (850) 267-0010 to set up an appointment. You can also fill out the online form on our website to schedule a consultation.
Image: Welcome sign