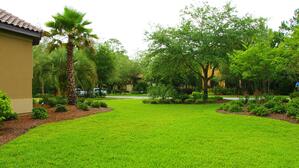 If you're looking for a landscape contractor to install a fresh, new landscape on your property — or maintain your existing landscape — your budget is likely a huge concern. But there's more to consider when choosing your landscape contractor than the cost of the service they are providing.
In the landscape industry, lowest price is not always the most important factor to use in your decision making. Here are some additional factors to prioritize as you choose your Florida panhandle landscaping contractor.
Can The Company Perform The Work?
There are many landscape companies to choose from in the Florida panhandle and many will be willing to provide a quote for work to any homeowner or commercial property. As the consumer you need to be sure that they are able to perform the work that you are requesting.
Ask specific questions about the work you want performed, ask for examples of similar work they have performed and request a detailed scope of work to see that you and the company are on the same page.
Is The Company Licensed And/Or Certified To Do The Work?
If you are looking for a company to perform agronomic maintenance on your property as part of your monthly program, be sure to find out whether they are licensed to do so. Unfortunately, not all companies are forthcoming with this information, so you may have to do a little homework.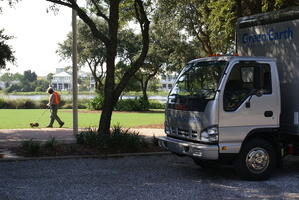 GreenEarth is licensed to perform this service therefore understands the laws and regulations with applying chemicals and has a program in place that we have had success with over the years.
Certifications and education are just as important when choosing a contractor, there are many state and national certifications that a company and its employees can obtain to assure they are performing the best work in the most effective manner. GreenEarth values this and encourages employees to become industry experts: We employ techs with FNGLA certifications, a manager with horticultural degree, another with a landscape architecture degree, and a project manager with certification in segmental paving.
We strive to be the best at what we do and believe that our clients should expect licenses and certifications from their contractor.
How Long Has The Company Been In Business?
Knowing how long a company has been in business can help you make an informed decision about the stability of the company. During the more than eight years GreenEarth has been in business, we've grown and become industry experts. Companies that have only been in business a couple of years may be still learning the proper way to price and perform a job. Choose a company with experience to ensure you are getting a good product.
Does The Company Have References?
As a consumer you should always ask for references when you are looking for a new contractor. GreenEarth has commercial and residential references that can speak to the product we produce and the services we provide.
Do your research and ask for references that have services performed by the contractor that are similar to what you are looking for, there is no reason to give a commercial property a residential reference, if this is done it should be a red flag.
What Is The Company's Approach To Customer Service?
Determining a company's approach to customer service will be clear with your initial interactions as well as their ongoing plan for you. If you have a good first impression that is a good sign for the relationship, also having a clear point of contact.
When you hire GreenEarth for a project, the sales representative you worked with will introduce you to the project manager who will become your point of contact throughout the work. If you're a new maintenance customer, you'll meet your personal account manager that will be in charge of your property.
By assigning managers to properties and customers we are able to assure good customer service — we believe good customer service is key to a good business relationship!
Give us a call at our Panama City Beach office at (850) 236-1959, or call our Santa Rosa Beach office at (850) 267-0010 to set up an appointment. You can also fill out the online form on our website to schedule a consultation.