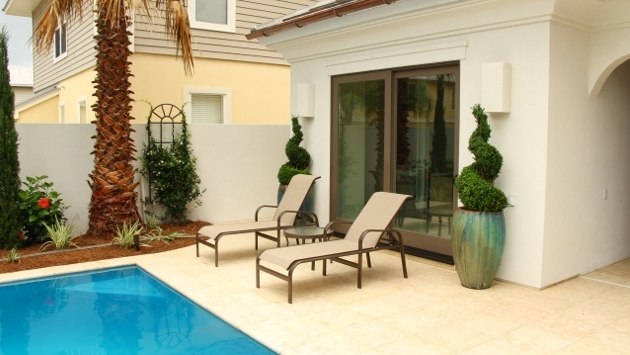 One of the best things about planning a landscape in the Florida panhandle is the amount of time you'll actually have to use it once it's installed. Swimming pools are no different.
In Florida, we have the luxury of a far longer season to actually enjoy the water than homeowners in other parts of the country.
While it may be more fun to imagine the fountains and other water features you could add on with each new season, it stands to reason that along with your beautiful swimming pool, you'll also want to invest in hardscaping around the pool. The pavers you choose should be both beautiful and well suited to your design tastes; they should also be practical and, above all things, safe.
In choosing the right paving material for around your Florida panhandle swimming pool, there are aesthetic considerations and budget concerns. To help you attack the big paver decision, here are few choices — with a few of their ups and downs.
Pool area paving material #1: natural stone
Natural stone may be one of the widest-ranging options available. That's the biggest benefit to natural stone: design freedom, from specially treated, uniform stone to unique, irregular flagstones. Natural stone is a long-lasting swimming pool area paver, provided it's been installed correctly, and you can even increase the size of your paved area with ease.
The biggest pitfall to natural stone: It can shift and move over time, especially if you did a lot of grading or backfilling while you were excavating to install your pool or other aspects of your landscape. You'll also have to take great care of the pavers to ensure weeds don't grow between the stones.
(TIP: If paving your entire pool area with natural stone isn't feasible, consider using a more cost-effective material overall, with natural stone coping as an accent.)
Pool area paving material #2: concrete
Concrete is every homeowner's most inexpensive option, and it offers plenty of design flexibility. If standard concrete slab is too industrial for your tastes, for example, stamped concrete and plenty of staining options available make it more versatile and interesting.
Concrete is also an eco-friendly option, made from limestone and always available in the immediate vicinity.
Though concrete is easy to care for, it's prone to cracking no matter how well it was installed.
Pool area paving material #3: brick
Mixed with Florida's lush greenery and tropical colors, brick can be an unusual but beautiful choice! There are lots of patterns to choose from, as well as the choice of concrete and clay bricks, which will determine your options for color and shape.
Brick is often more costly than other pavers. It requires a lot of labor to install and is prone to shifting and breakage — though with regular, diligent maintenance, you can minimize the effects of time.
Its biggest pitfall, however, is especially noteworthy for Florida: If your pool is in full sunlight, brick retains a lot of heat and will be dangerous to walk on in bare feet.
Ready to start talking about which type of hardscaping to install around your Florida swimming pool? Call the professionals at GreenEarth Landscape Solutions. We can help you decide on pavers that suit your design taste, safety needs and budget.
Call our Panama City Beach office at (850) 236-1959 or our Santa Rosa Beach office at (850) 267-0010. Or, fill out the web form to the right and we'll get in touch with you to set up a free consultation. And be sure to download our handy Landscape Planning Guide for even more inspiration.