Some of our clients are happy with the general state of their landscaping and then there are others considering ripping it out and starting over.
Of course a newly built property needs fresh landscaping, but if you already have a landscaped yard, there might be other factors.
It might be a matter of property value, since landscaping is a huge factor in that. If done well, landscaping increases the home's value, while if the landscaping looks shoddy or unkempt, the value goes down.
Just like a kitchen gets dated over time, landscaping can get dated too. Plants including shrubs have a life span and sometimes need replacing. The grass quality can decrease too. Or maybe your landscaping just needs a fresh look.
If you're mulling over an entirely new landscape — how exciting! — here's a closer look at the time it may take to make that happen.
What Affects The Scope Of A Landscaping Project?
Many factors can affect the scope of a landscape project. Some of them include:
Size Of Project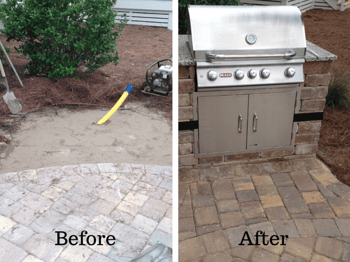 For major landscaping projects, a landscape architect is involved. Costs are impacted by the project complexity and how many times it's reviewed and changed. To minimize the number of revisions, it's helpful if the homeowner identifies plants they like or looks they like at the beginning.
Even telling the landscape architect the preferred colors, and whether the desired concept is simple, over the top, Tuscan style, etc. helps guide the architect in the initial design.
Community Sign-Off
From Panama City Beach to Sandestin, one of the biggest hurdles for homeowners is whether your home is in a community that requires a project sign-off before installation.
Some communities have an architectural review board (ARB) where plans must be presented and approved by the board before work is done. The landscape company would facilitate that process for the homeowner. Some communities also have lists of acceptable plants.
This part of the process can easily turn into the most stressful because each community's ARB and homeowners association (HOA) is different from the next. And that means if the landscape contractor working with you isn't on top of the guidelines set by your ARB and HOA, well, you're putting yourself at risk for revisions and even fines.
The right landscape contractor will take the burden off the homeowner by communicating with the necessary review boards and ensuring all rules and regulations are followed on the first pass.
Size And Choice Of Plant Materials
Plants come in various sizes, like in three, five or seven gallon containers. Usually the larger containers contain more mature plants and those are more costly. Different types of plants have different costs and availability as well.
Landscape Lighting
Homeowners sometimes don't think about landscape lighting until the end. If that can be integrated early in the planning process, that helps refine the plan and the costs.
What Are The Stages Of Landscape Installation?
Landscape installation is a definite process with a timeline. Here are the stages you typically go through during your property's new landscaping installation:
Demolition Phase
This messy phase is usually organized chaos. The landscape contractor may dig with heavy earth moving equipment, having already contacted the utility company. It's possible that the contractor might break some existing irrigation lines if they weren't laid down by the same company.
This phase goes quickly. For a standard residence, it's a couple of days at most, providing a clean slate for the next steps.
Site Preparation
Now it's time to grade the site and fine tune the final topography. This phase will usually last one to two days, and the homeowner won't notice a drastic change.
Irrigation Improvement
This optional phase depends on whether the current irrigation system needs tweaking or major repair. There may be discussion about whether the existing irrigation system can adequately handle the new plant requirements and placements.
If changes need to be made, this and the actual planting phase can take the longest. Expect this phase to be a couple of hours to a couple of days.
Plant Installation
Installing the plants and the sod usually happens at the same time. It can take a day or two. This is the exciting part of the process, where you can envision the final product and see it come together.
Wrap Up
You're almost done! The landscaper will finish odds and ends like laying down pine straw and will walk through the property with you to make sure everything was done the way you wanted.
For an average home, the start to finish timeline is usually about a week, which includes landscaping the front and the back.
Let GreenEarth Give You a Custom Plan and Timeline
At GreenEarth, we know that each client has its own individual needs. We can customize a landscaping proposal for you, and go through the timeline your home needs for a landscape change.
We work with many planned communities in Northwest Florida and know what it takes to get a landscaping proposal through the process efficiently.
If you'd like a consultation or want to know what we can do to help you, give us a call at our Panama City Beach office at (850) 236-1959, or call our Santa Rosa Beach office at (850) 267-0010 to set up an appointment. You can also fill out the online form on our website to schedule a consultation.
Image: Planner