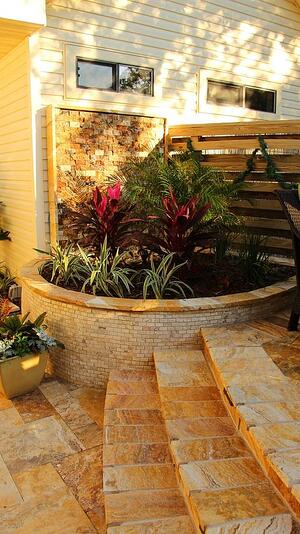 When clients are working with us to design their Florida panhandle landscapes, they ask a lot of questions. (Sometimes even the decision between a deck or a patio is a tough one!) But once they've decided, they often ask us about the best patio shapes. We spend a lot of time on our patios and in our outdoor living spaces — it's an important consideration, and it's one with a lot of options.
A patio is a long-lasting investment, so when you design and install one, it's something you want to do right the first time. And yes, there are designs that we would consider the most popular patio shapes, but what you choose all depends on your needs and desires.
When we talk with clients about building their new patios, we ask a lot of questions:
How will you use your patio?
How many people will you be entertaining on it and how often?
Do you need space for an outdoor kitchen?
What shape and size are the table and chairs you plan to use?
Will you be using additional outdoor furniture, like a loveseat or coffee table?
Do you want one large entertaining area or several "outdoor rooms"?
What Are The Most Popular Patio Shapes?
With patio shapes, there are three basic designs to consider: rectilinear, curvilinear or free form.
To choose among them, you'll want to consider all the questions above — and work with your designer to figure out what look you're going for. Consider the shape of your house and whether you want the patio to mimic your home's architecture and shape…or mix it up by adding a patio with a different look.
Here are some ways to think about each patio shape.
Rectilinear Patio Design
The rectilinear patio is the most popular shape. It's often easier to create a square or rectangular patio, partly because the majority of pavers are a rectilinear design. By choosing this shape patio, you have more freedom when choosing a paver style.
Rectilinear patio shapes lend a more contemporary feel. By selecting square or rectangular patio furniture, you can utilize more of the space. This is an ideal style to accommodate structures like a pergola or outdoor kitchen.
Curvilinear Patio Design
A round patio doesn't have to just be full a circle, but it's usually rounded in a uniform way, like a half dome shape. Often there's a focal point at the center, like a dining table or a fire pit.
These types of patios are most commonly smaller in size, and you'd likely not use larger or irregularly shaped pavers. Having a uniformed curve exudes a sense of elegance.
Free Form Patio Design
Often referred to as an irregular, asymmetric or organic shape, the freeform model is a good one because it's unique to your space. With its soft edges, it nicely balances out the straight edges of a house and yard. The free form style generally flows to reflect the surrounding landscaping.
Free-form patio designs work well with most scenarios and is easily adaptable to multilevel concepts. This style gives you a freedom to create "outdoor rooms," separate spaces for different kinds of entertaining.
The Best Patio Shapes: Whatever Best Fits Your Style
But the patio outline is only one element of its shape. A more subtle patio shape can also be created by the paver or brick design. Instead of laying them horizontally or vertically to the house, they can be arranged at an angle, which gives the patio a different look.
Even if you don't use a round patio shape, you can still create circular designs within the patio, with the pavers or bricks. This instantly creates separate areas, even in a larger, open patio.
Plus, there's not always a need to choose only one patio shape. You can have two adjoining patios, optimally on different levels: one rectilinear and one curvilinear, perhaps leading to each other with a path or stairs.
Within any patio, you can create additional visual interest using focal points. That can be a partial wall, a fountain, a fire pit or landscaping. You can also add visual interest by extending portions of the patio out, no matter what its shape, for planters, seating or something else.
If you'd like to talk with us about what type of patio would work well at your house, reach out to the professionals at Green Earth Landscape Services. Give us a call at our Panama City Beach office at (850) 236-1959, or call our Santa Rosa Beach office at (850) 267-0010 to set up an appointment. You can also fill out the online form on our website to schedule a consultation.