If you've purchased a vacation rental home, you know that a big part of the home's appeal is the exterior, enjoying the beauty of the outdoors.
Scenic Highway 30-A has stunning planned communities like WaterColor, Watersound and the highly regarded town of Seaside — all popular spots for GreenEarth clients who own vacation rentals or vacation homes.
With a post-recession building boom in the Florida vacation rental market, landscaping re-dos and new property landscaping installations are becoming more popular.
Our clients ask us to create low-stress landscapes for these stress-reducing rentals on Highway 30-A. Here are seven low-maintenance landscaping ideas for vacation rentals we often recommend.
Planning
When planning your landscaping, think about what parts of your rental can benefit most from landscape enhancements. This can accomplished with both outdoor lighting and landscaping. Do you want color? Planting annuals in a flower bed is a great way to add some pop.
Think Long Term
Rather than going for immediate gratification with new plants, envision the home in five and 10 years. Like kids, plants don't stay small forever. They'll grow up, fill out and need more space. Unless your goal is a natural privacy fence, we recommend giving the plants their space now, so that when they mature, they don't crowd each other.
You should also consider how tall the plants will grow, when deciding where to place them. This will help you avoid planting something below a window that will later cover it.
Go Native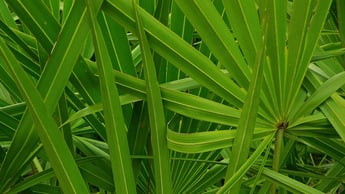 The top tip for a low maintenance yard is to use plants native to Florida and the region. Saw palmetto is a popular choice, along with yaupon holly. We recommend planting these in a natural way, not a geometric pattern.
Pine straw can then cover the sand and dirt. Using native plants means it doesn't matter what season they're planted in, since they're already acclimated to the area's heat and precipitation.
Use Drip Irrigation
Most vacation properties aren't large, and drip irrigation systems make watering the plants automatic and easy. At GreenEarth, we've found that most of our Florida vacation rental clients only need one or two zones on their drip irrigation systems.
Consider Synthetic Turf
Faux grass has come a long way since it was invented. While you may not want a whole yard full of synthetic turf, some of our clients enjoy having a small patch in their courtyard or another area. They like the color and feel of it, and their pets enjoy it too.
And best of all, it doesn't need watering, reseeding or mowing. Vacation rental owners often prefer to avoid planting natural turf, as it's more resource intensive.
Schedule Routine Maintenance
While the landscaping may be low maintenance, it's not no maintenance. For these vacation rental properties, GreenEarth recommends biweekly service primarily for pruning. Native plants won't need as much upkeep as nonnative plants, but there is a level of manicuring that keeps the plants looking their best.
Irrigation maintenance is often done monthly. We also recommend twice yearly placement of pine straw, in the spring and fall, and plant fertilizing three times a year (excluding winter, when plants are dormant).
Some homeowners prefer to handle vacation rental landscaping maintenance themselves, which is fine if they can devote the time and energy to it. Going without regular maintenance invites weeds to take over, requiring more time and effort to remove them.
Choose A Quality Landscape Company
Since this is likely an investment property, you'll want to find a quality landscaping specialist who can maximize your returns. The nicer your property's curb appeal, the greater chance you have of maximizing the occupancy for rental or a later sale.
Vacation rental homes along Highway 30-A often cost $500,000 or more, and are located in communities with a professional image and architectural review boards, which may also have landscaping upkeep requirements. Keeping the landscaping up to par is best left to the experts.
Have Peace Of Mind When You're Away — GreenEarth Handles Vacation Rental Landscaping
At GreenEarth, our clients include many vacation rental homeowners, who trust us to care for their rental property and their residential property. When you're not around to see the landscaping for yourself on a daily basis, it's nice to know that it's being cared for by landscapers who take pride in their work and want to make their customers' landscaping shine.
If you'd like a consultation or want to know what we can do to help with your landscaping, whether it's vacation rental, residential or commercial property, give us a call at our Panama City Beach office at (850) 236-1959, or call our Santa Rosa Beach office at (850) 267-0010 to set up an appointment. You can also fill out the online form on our website to schedule a consultation.
Images: Saw Palmetto, Seaside community sign