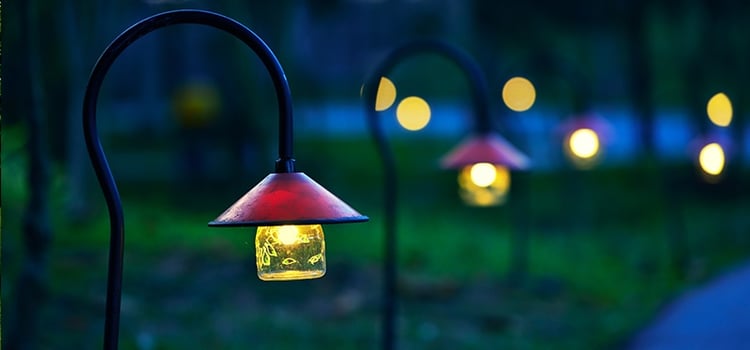 Outdoor lighting is an important addition to the landscaping design of any commercial or residential property. The landscape lighting you choose can serve many purposes, all of which will allow you and others to get the most out of your outdoor space - day or night.
Here are some common ways to use landscape lighting to make your property safer, more secure, and to highlight, accent, or transform the aesthetic appeal or mood of your outdoor space.
Safety Lighting
Whether you are looking for lighting to illuminate a path to your door, parking lot, or garage. Several kinds of safety lights will combine function with beauty. GreenEarth works in close cooperation with licensed electricians, so fear not. All of our landscape lighting contractor(s) have the necessary credentials and experience to install lighting that will make your property more secure and enjoyable.
Flood Lights
Flood lights are similar to spotlights, but they the light they emit is more intense, and they illuminate a wider area. Flood lights are ideal for commercial buildings where you want to be sure that your employees feel safe about going from the building to their cars after dark or if and when they work late.
Spotlights
Spotlights are designed to highlight an architectural element of any feature. You may want to illuminate the facade of your home at night, especially if you're entertaining. A spotlight can place the focus on any area, architectural detail or feature you want to become a focal point.
Low-Voltage Lighting
Low-voltage lighting does not require an electrician and does not have to connect to a main electrical panel. Therefore, you will not have to worry about burying electrical wires underground, nor do you have to worry about their safety if anything gets wet.
Path Lights
Path lighting is one type of low-voltage landscape lighting. There are different types of path lighting, and the design you choose should complement the architectural style of your home and the landscape you put it in.
Recessed Lights
Recessed lighting is the ideal way to illuminate built-in sitting areas or steps that lead to other outdoor living, entertaining or activity areas.
Whether you mount lights in the tops of trees or shine lights up into the trees from the ground, the effect of highlighting trees is always dramatic. Uplighting, which is the term that describes illumination that casts light downward, creates a spectacular effect as the light passes through the tree branches and leaves, producing dramatic shadows that you'd expect to see from the moon.
Accent Lighting
If there is a unique design element or amenity on your property that you want to highlight as a focal point, accent lighting will help you do that. You can make the focal point even more dramatic by using colored lights to create an inviting atmosphere for entertaining.
Leave the Commercial and Residential Landscape Lighting Installation to Us
Outdoor living is synonymous with Florida living. You know what we can and do for residential and commercial property customers throughout Northwest Florida. Now it's time to find out how our commercial and residential landscape lighting contractors can transform your outdoor areas into the safest, most fun space in your neighborhood.
Ready to discuss your residential landscape lighting needs? You can reach our Panama City Beach office at (850) 236-1959 or our Santa Rosa Beach office at (850) 267-0010. Or, you can fill out our handy online form to schedule a free consultation. And be sure to download our free Landscape Planning Guide below. Get yourself some inspiration!