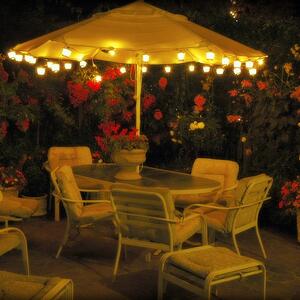 The days are getting shorter and the nights are getting longer. Even in sunny Florida, effective lighting can make the difference between enjoying the great outdoors year round, and staying inside. There's no reason you can't take advantage of twilight cocktail hours and evening bar-b-ques in the yard and garden you've worked hard to maintain.
As the peak darker winter months approach, it's not too late to tweak your outdoor lighting or install a few new fixtures. Is it worth the fuss? Absolutely.
Here are some benefits of adding new lights or upgrading existing ones.
More time to spend outside
If you wanted to spend the entire winter indoors, you could live in a colder location, like New York or Minnesota. As darkness falls, it gets cooler. So if the temperature is holding you back, heat lamps are a great investment. Adding lights so that you can comfortably entertain and enjoy outdoor meals lets you take full advantage of what your home offers.
Improved aesthetics
With many lighting options, you can choose to highlight certain plants and trees, add decorative but useful overhead lighting in the patio area, and light up your walkways. Whether you want a romantic, dreamy look or full brightness so you see every paver in the patio, lighting makes your yard take on a different dimension.
Safety and security
Increased lighting in your yard makes it more secure and safe from several threats. When you're outside, you'll be able to better see where you're walking, which means less chance of a trip-and-fall accident. Better lighting protects your visitors and guests from this peril as well.
The other safety issue is that lighting deters criminals from seeing your home as an invitation. The last thing a burglar wants to see when scoping out a house is lighting strong enough to get spotted by homeowners or neighbors.
What kinds of lights should you get?
When considering outdoor lighting, there are several kinds to consider. You'll need to think about the functionality you want.
Overhead lights
If you are interested in entertaining on the patio, you'll want some overhead lights, with fixtures or flood lights attached to the house or patio structure.
For decorative lighting, you may want to add some light strings, kind of like Christmas lights but with larger bulbs. You can find a variety of styles, ranging from uncovered globe bulbs to those with whimsical features.
Motion sensor
For safety reasons, you can install motion sensor lights that are tripped when something moves in the area. These lights can also be controlled with an indoor switch, if you want them to stay on for a longer period of time. You can install them on the house or in the garden.
Walkway lights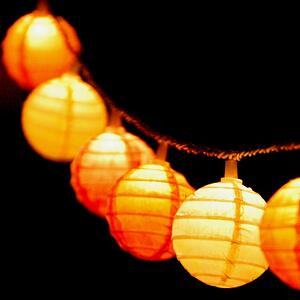 Make sure you have lights along your paths, if you plan to use them in the dark. These lights range from solar powered lights you can easily push into the ground, to wired lights installed by a professional like those of us at Green Earth Landscape Services. You can see some of the advantages to different types of outdoor lighting in one of our previous posts, Halogen and LED and Solar Landscape Lighting, Oh My!

For great lighting ideas and installation quotes, give us a call at our Panama City Beach office at (850) 236-1959, or call our Santa Rosa Beach office at (850) 267-0010 to set up an appointment. You can also fill out the online form on our website to schedule a consultation.
Image credit: Umbrella lighting, yard fixture, paper lamps