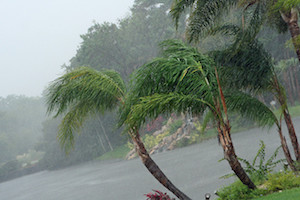 Hurricane season comes once a year — from June 1 to November 30 — raising alert levels across the shoreline areas of both the Atlantic Ocean and Gulf of Mexico. The last thing you want to worry about is how your landscaping might affect your chances of your property being damaged.
You can't guarantee that a hurricane won't knock a tree into your house, but you can minimize the chances that it will happen. Here are five tips to hurricane proof your Florida landscape.
Maintain Your Trees
The biggest landscaping concern you'll have during a hurricane is your trees. If your trees are already planted and mature, you'll want to inspect them annually. This means making sure they don't have any cracks in their limbs or trunks which could make the tree less stable in a storm.
Are any of those branches hanging over your house or over power lines? Time to trim them.
Do you see insect infestations that could indicate the tree is dying? Do you see fungus growing from the tree, or other signs of decay? Your tree may not be healthy.
Is your tree leaning to one side? That could indicate that the roots aren't stable and the tree could come down without much pressure.
Annually inspecting and pruning your trees is a good idea. Thinning out the leaves makes them more wind resistant. The exception here is palm trees. Those leaves can handle the wind and don't need cutting.
Choose The Right Trees
Fall is a great time to plant trees in Florida. If you're looking to add some new ones to your property, do so with hurricane proofing in mind. Look for native trees that are compact, with sturdy trunks, wide-spread branches and a low center of gravity. The trees should grow strong, deep root systems.
Plant your larger trees further from power lines and your home, in case they come down. It's a good to also plant several varieties in a group, which helps with wind resistance.
Some popular Florida trees that are hurricane resistant are palms, Live Oak, Southern Magnolia, Bald Cypress and Sweetgum, to name a few. Anchor your new trees with supports if a storm is coming, so you don't lose what you just planted.
Hedge Your Bets
Planting dense hedges in front of newer or taller trees can help divert the wind and keep the trees' root structures in place. Shrubs also make good ground coverings next to the house.
Shrubs shown to be hurricane-resistant include English Holly, Confederate Jasmine, Hebe and Juniper.
Prevent Water Damage
In a hurricane, you're likely to get a lot of rain in addition to high winds. If areas of your lawn tend to hold water, consider planting things there that can handle it, like Red Maple and Cypress trees.
To make sure water doesn't pool near your house (which then could leak into your house), you may want to improve your grading and drainage, to divert water away from the structure.
Preventing Projectiles
Part of landscaping includes potted plants, rocks and other smaller items that provide decorative touches to your yard. But in high winds, these items can turn into projectiles, breaking windows. If you're not able to move planters into the garage or house, consider putting them in the corner when the fence and house meet, to make it harder for the wind to move them.
Gravel and decorative rocks look pretty, but so does shredded bark, which is less dangerous when airborne. Consider swapping it out. As for lawn furniture, trash cans, BBQ and other outdoor items, move what you can into the garage. Or tie them to trees. Some people put their lawn furniture in the pool. It will likely end up there anyway, and the water keeps it safer there than on the deck. Trampolines can easily get caught by the wind, so consider dismantling them for an expected storm.
Let Us Help You Prep Your Landscape
It's a good idea to do a yearly landscaping inspection to make sure your yard is storm ready. Trained specialists like those at GreenEarth can assist you with those needs.
You can reach us at our Panama City Beach office at (850) 236-1959, or call our Santa Rosa Beach office at (850) 267-0010 to set up an appointment. You can also fill out the online form on our website to schedule a consultation.