Flowers provide gorgeous color and pop, but sometimes they're high maintenance and their flowers don't last past one season. Then you either need to replant with other flowers or just let their greenery grow without the blooms.
Some of our clients ask us about colorful foliage alternatives to these flowers. Fortunately we have a handful to recommend, and they don't require much maintenance.
If you're looking to add color and interest to your landscape with low care demands, here are four colorful foliage plants for low maintenance landscaping you should consider.
Coleus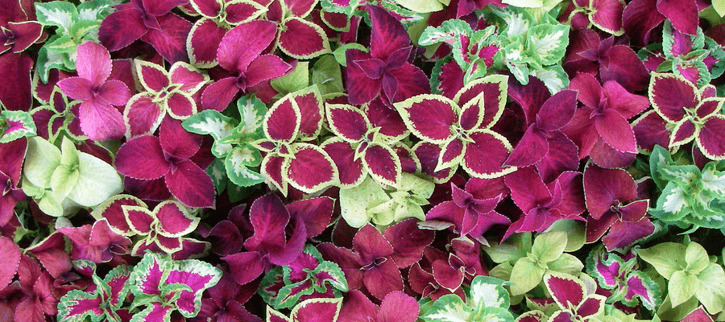 Plants with these beautifully colored leaves vary in hue and pattern. You'll find them in greens and whites, but more exciting are the leaves alternating with fuchsias, reds, yellows and pinks. You can use them as a border plant or as bedding.
These annuals are easy to grow and thrive in warm locations. They like both partial shade and direct sun, and the amount of sun they get can affect their coloring. You don't need to do anything to help the coleus grow, other than keeping it moist. Pruning off dead leaves helps it grow bushier.
Crotons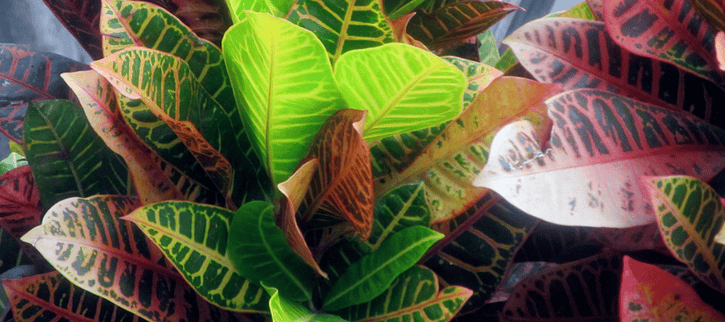 The interesting croton leaves vary in size and shape, as well as color. You'll find croton leaves in yellow and green, shades of red, purples and oranges. Croton shrubs are low maintenance, and can be pruned to keep them at a manageable size, even as small as three feet high.
Plant the same type together for a more uniform color and look, or vary the type of croton for variety. They work well as container plants or grown in the ground. They're versatile, growing well in full sun or partial shade.
Caladiums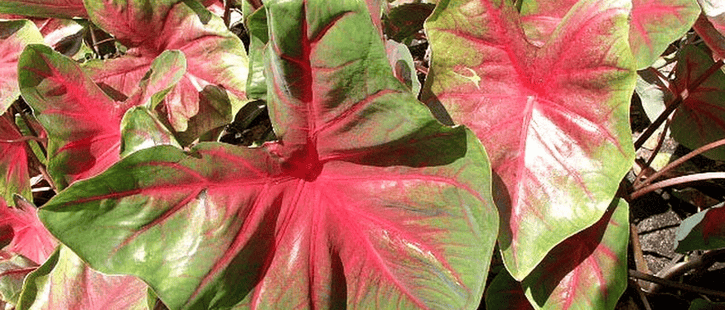 These large heart-shaped leaves (also described as elephant ears) sometimes have patterns emphasizing the leaf veins, while others highlight the border with an alternate and contrasting color. Others have speckled leaves.
You'll find caladiums in dark and pale greens, rich reds, pinks and whites. They're easy to plant and care for and have many varieties to choose from. They grow best in partial shade, with two to four hours of direct sun per day.
Dracaena 'Red Sister'
These dramatic plants have vibrant red leaves in an oblong shape. The plants grow well, and you'll need to prune them back to the size and shape you want. They do well as potted plants or in the ground.
Other dracaena varieties produce different colored and shaped leaves, but the Red Sister is the most striking. Newer leaves take on a bright fuchsia hue, while the established leaves are a darker magenta. Red Sister grows well in partial shade to full sun and need to stay moist.
Looking To Boost The Color & Interest Of Your Landscape? GreenEarth Can Help
At GreenEarth, we'll recommend other colorful foliage alternatives to flowers, and we can help you with planning and planting. If you'd like a consultation on what foliage would work well in your garden, give us a call at our Panama City Beach office at (850) 236-1959, or call our Santa Rosa Beach office at (850) 267-0010 to set up an appointment.
You can also fill out the online form on our website to schedule a consultation or download our FREE Landscape Planning Guide below and start turning your dreams of a color-rich landscape into reality.