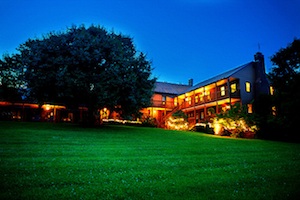 In the day time, your commercial property's landscaping looks fabulous: neatly trimmed lawn, blooming flowers, full trees…bushy bushes. But at night, that same property is a different beast. Without the proper lighting, it's hard to see anything. Whether your property welcomes evening visitors or shuts down when the sun goes down, it's important that the lighting makes a statement and has a purpose.
What is that purpose? Your property conveys an image to the public and to its tenants. You want your lighting to show that you care about your visitors, the building and the landscaping, and that your brand is high quality.
Here are four areas where your commercial property needs landscape lighting.
Signage
Not everyone visits your property during the day. Sometimes they come at night, whether to actively shop, window shop, dine, visit an office after-hours or drop something off. If the building and tenant signs are not properly lit up, visitors won't know they're in the right place. Plus, those in cars often spot businesses of interest when they're least expecting it — en route to someplace else.
If your building has self-lit signs, make sure they're working properly, with no burned-out bulbs or weather damage. For signs and address numbers with no internal lighting, provide spotlights from the outside.
Entrance
Make it easy for those entering your property's gates or doors by providing adequate lighting. Do they need to get their keys out? Do they need to find a mailbox? Do they need to push an entrance buzzer? They need lighting for that!
Lighting serves another function as well: It deters crime. Well-lit entrances are safer for those legitimately entering the building because a criminal planning an attack won't want to be spotted. And hooligans trying to get inside to commit theft would rather enter a building if they can't be seen while doing so.
Walkway and Steps
Safety is the obvious reason for lighting up the pathways taking your customers and tenants to the building at night. Whether your walkway is concrete, gravel or brick, lighting the way allows visitors to see if something is in the way, sticking up or even an incline or decline in the path. And of course it shows your visitors the right direction to walk!
Steps can be difficult to see at night, so illuminating them well — maybe also adding a handrail or reflective tape on them — makes the property safer to visit and less prone to an insurance claim.
Landscape Features
You don't spend time and money on the landscaping just for it to disappear at night. Highlight some of the best features with landscape lighting. Palm trees look great with spotlights shining up on them, and water features stand out at night too. Do you have unique flowers and bushes? Shine a light on them! This serves multiple purposes, not only showing off the plants, but possibly featuring the building architecture while also providing additional lighting to deter crime.
To learn more about how landscape lighting can improve your commercial property, give us a call at our Panama City Beach office at (850) 236-1959, or call our Santa Rosa Beach office at (850) 267-0010 to set up an appointment. You can also fill out the online form on our website to schedule a consultation.
Image credits: Property lighting, parking lot lighting, walkway lighting