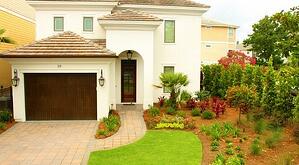 In most cases, time is your landscape's friend. Especially here in Florida, after a few seasons, a newly installed landscape will flourish and flower until you have a veritable jungle just outside your front door!
Your turfgrass will become greener and more natural looking; trees will grow taller and stronger; and the beds where your shrubs and perennials live become full and established.
Before you know it, the investment you made in your outdoor living space will really have paid off — in the form of a beautiful landscape that guests admire and neighbors envy.
But time is not on your side where your hardscaping is concerned. The passage of time can leave your patio looking haggard and old if you don't take proper care of it.
Hot, sunny summers can fade or discolor your pavers. Moisture, especially during the rainy season, can cause mold and mildew. Weeds can grow up between your pavers, and erosion and shifting can cause problems. Pests can be an issue, too!
Luckily, protecting your hardscapes from the elements and the damage time can do isn't rocket science. A good coat of sealant every year is all it takes to protect your pavers from damage as the rest of your landscape flourishes around it.
There are many benefits to sealing your pavers, and we'll talk about just a couple of them here.
Sealing pavers: structural benefits
The best reason to seal your pavers is to keep your patio the way it was the day it was installed: smooth, even, clean. Sealant does all that, making each paver less susceptible to moisture in the ground, which could make the sand shift underneath it. If the joint sand isn't moving, neither is your patio, which means the surface will be smoother and safer to walk on.
Another benefit to keeping pavers' joint sand in place is that the small spaces between the pavers will be resistant to insects, mildew and weeds.
The surface of your patio will be easier to clean, too, with a higher surface density and fewer surface imperfections.
Sealing pavers: aesthetic benefits
Beyond the practical application of sealants, applying them to your patio will also help it look its best. Depending on your sealant's finish, you may even be able to add a different look to your patio. One particular type actually casts a sheen over your hardscape, creating a wet look in any weather — one that's actually safe to walk on!
Sealing pavers makes them more resistant to staining, so if a paved surface like your driveway is made of natural stone or concrete pavers, surface stains like oil drips and tire tracks will have less staying power if you've sealed it.
Finally, sealant protects your pavers from UV rays, water and other elements that can cause fading and discoloration, so the pavers you selected for your hardscape will look the way they did when you first bought them.
Keep your patio and other hardscapes looking beautiful with time. Protect your investment from the effects of the elements by applying a sealant, for all the aesthetic and structural benefits.
Want to talk more about protecting your property's hardscaping? The professionals at GreenEarth Landscape Solutions can help.
Call our Santa Rosa Beach office at (850) 267-0010 or our office in Panama City Beach at (850) 236-1959. Or, fill out our web form to the right and we'll get in touch with you!