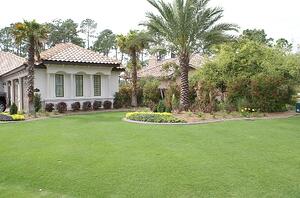 In the Florida panhandle, soil can be especially sandy or contain a large amount of clay, both of which are low on nutrients and need to be supplemented with nutritional amendments.
Soils with a lot of clay are also often compacted and drain much more slowly than their sandy counterparts. Our soil isn't exactly the most welcoming environment for growing turf grass.
But many homeowners love the idea of a lush landscape. So as long as you're willing to take the extra care and maintenance steps needed to maintain it, you can have that beautiful green turf!
For many lawn care tasks, there's a specific point in the season when it's best to take care of them, but lawn aeration is done on a purely as-needed basis, typically in the spring here in the panhandle.
If you're struggling with a highly compacted lawn or having issues with thatch -- a layer of living and dead stems, leaves and roots that builds up between growing grass and the soil underneath -- then you need to think about aerating your lawn!
What is lawn aeration?
Lawn aeration is the process of mechanically removing small plugs of thatch and soil from the lawn to improve soil aeration. There are practically endless reasons to aerate your lawn, but we've put together 8 of the most compelling.
1. Lawn aeration makes turf more durable and resistant to foot traffic.
2. Lawn aeration helps your turf grass' roots grow deeper.
3. Lawn aeration stimulates more growth.
4. Lawn aeration makes your turf grow thicker and more lush.
5. Aerating your lawn reduces soil compaction and helps eliminate thatch.
6. Lawn aeration prevents soil-borne and turf grass diseases.
7. Aerating your lawn makes it less dependent on irrigation (great for a Florida landscape).
8. Aeration ups the biological activity in your lawn.
Next step: sanding?
For lawns in the Florida panhandle, topdressing your lawn with sand may be a great next step after aeration. Sand, used as a topdressing, adds additional drainage capability to a soil rich in clay, and also helps level out and smooth the surface of your turf. (Golf courses in our area topdress frequently to maintain their beautiful, smooth greens!)
Aerating and topdressing with sand are two processes that can significantly improve the health and life of your Florida panhandle turf grass. These two processes are definitely projects some homeowners are comfortable taking a DIY approach with. But professional landscape management companies have the expertise, not to mention industrial-strength equipment perfectly suited for these tasks.
If you'd like to talk about getting started on a lawn care plan that includes aeration and topdressing, get in touch with GreenEarth!
Call our Panama City Beach office at (850) 236-1959 or our Santa Rosa Beach office at (850) 267-0010, or fill out our web form to the right to have a GreenEarth professional contact you!