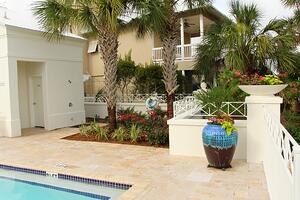 In order to get what you want from your landscape provider you must communicate with them. Everyone has an image of what they want their property to look like as well as expectations of the company that is providing their service on a regular basis. GreenEarth takes these expectations seriously, so how do you communicate them?
Tip #1: Know what you want:
It's easier to communicate with your landscape provider if you know what you want them to accomplish. Drive around your neighborhood or look online to determine what you want your yard to look like on a regular basis. Ask your friends what services they have provided by their landscape provider. Being a prepared consumer will help you get what you want!
GreenEarth has a number of commercial and residential references that we can provide upon request, they can share what they get from having GreenEarth as their landscape provider. To review examples of GreenEarth's properties please check out our Residential and Commercial Galleries.
Tip #2: Know who your point of contact is:
At GreenEarth Landscape Services every property, residential and commercial, has an Account Manager assigned to the property. This Account Manager is the direct point of contact for the homeowner or property manager and they are responsible for assuring that the needs of our customers are met. Not knowing who you are supposed to speak with can cause your time to be wasted and tasks to not be completed. Ask your landscape provider who you should contact with questions or concerns.
Tip #3:Understand what you are paying for:
GreenEarth is a full service landscape provider but can customize contracts to meet your needs. You work hard for your money and deserve to know what you are getting for it. Our contracts are clear about what we provide and our crews are trained to know each property and what services they are receiving. Make sure that you aren't just getting a bill every month from your provider without knowing what your money is paying for. You work hard for your money, let GreenEarth work hard to make your dream landscape a reality.
Tip #4: Ask questions and give feedback:
The best form of communication is two way. Don't allow your landscape provider to just tell you what they are doing, have an open two way discussion about what is working and isn't working for you. GreenEarth Account Managers contact every customer on a quarterly basis to discuss the property and the services that are providing. This is the time for comments good and bad. We take this comments seriously and they will always be passed on to the crew caring for the property.
The old saying you get what you pay for is true….even when it comes to landscaping. GreenEarth will not always be the cheapest landscape provider that you meet but we will have a high level of customer service with the best possible communication. We believe in putting our customers first and providing a top of the line product.
Call our Panama City Beach office at (850) 236-1959 or our Santa Rosa Beach office at (850) 267-0010. Or fill out our simple web form to have a GreenEarth landscape professional call you.