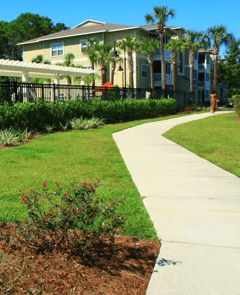 If your commercial property's sidewalk is uneven or has chunks missing from it, it's time to replace it. If it has unsightly cracks, or the sidewalk is raised or sunken in areas that used to be flat, it's time to replace it.
In addition to safety and liability issues, your property doesn't look its best if the walkways leading up to it are in disrepair. When some of our clients want to upgrade their property's appearance by freshening up the hardscaping, they prefer to replace a sidewalk even if it's in good condition.
Our clients often ask us about the costs associated with replacing a commercial sidewalk, as well as what to expect when making the change. Since each project is unique, we can't quote specific costs to repair or replace a Florida commercial sidewalk here, but we can tell you about some of the influencing factors, and what other considerations to keep in mind when it comes to concrete sidewalk repair.
Prep/Installation
As part of the planning process, we consider whether the layout of the sidewalk will change and whether there are elevation changes. Depending on the size of the sidewalk, we determine whether we're ordering concrete by the bag or by the truck, and whether we need a pump truck. We also estimate whether our dump truck can handle the weight of the sidewalk disposal and how far it is to the dump, or whether a dumpster would work better.
Access And Space
Our staff needs access to the property, so we can bring in demolition equipment, which might include a dump truck, skid steers, jackhammers and wheel barrows. Depending on the scope of the work, we'll also need space for materials staging. For concrete installation, we'll bring in a concrete truck. If installing interlocking pavers, we'll bring in a semi-truck for paver delivery. We may need a dumpster as well.
Sound Disruptions
You've probably heard jackhammering and know that it isn't a quiet activity! If your property is in a residential area, demolition is normally done during work hours, Monday through Friday. Loud machinery being used might include the skid steer, jackhammer, demolition saw and compactors.
We understand that any of these sounds are disruptive for commercial offices with open businesses. If the location isn't residential, obviously the preference would be to do the loud work when the businesses are closed or if there's an off season.
Traffic Control
Pedestrian and vehicular traffic control is extremely important for safety of both visitors and workers. Depending on circumstances, we might use caution tape, road cones, men with flags or detour signs — or a combination. We make sure there is a safe pedestrian detour route for those going into the building or just passing by. We also do a proper clean-up of the street area each day.
Materials
The majority of commercial sidewalks are concrete. Some clients, however, prefer interlocking pavers, which gives a more unique and high end look. Concrete tends to be less expensive than pavers, but we can give you prices on both to help you decide. No matter what you choose, be sure the hardscape materials installed meet all American with Disabilities (ADA) standards.
Collateral Damage
While we strive to leave as much of your landscaping and other hardscaping intact when replacing your commercial sidewalk, there can be some collateral damage. When we evaluate the sidewalk replacement, our goal is to confine collateral damage to just one area of landscaping. We prefer that any work we do impacts only the turf area, as it's easier to repair and less costly to the client. Bedding and plant areas are more difficult and expensive to replace.
During the estimate process, we'll talk to you about what collateral damage might be and any associated costs to repair it. Before starting the demolition, we will mark off underground electrical, gas and irrigation lines to avoid damaging them. We'll work to minimize any landscaping damage as well. When the project is complete, our clients know that their sidewalk and landscaping will be a good as new.
Consider GreenEarth For Your Commercial Hardscaping Needs
From preparation to installation and everything in between, costs and factors influencing a commercial concrete sidewalk repair and replacement vary by the property. We can give you a specific cost and time estimate after visiting your property and understanding your vision for how it will look, as well as the logistical considerations above.
If you're thinking about concrete sidewalk repair and other commercial hardscaping, give us a call at our Panama City Beach office at (850) 236-1959, or call our Santa Rosa Beach office at (850) 267-0010 to set up an appointment. You can also fill out the online form on our website to schedule a consultation.