With Florida's extended warm weather seasons, it's easy to spend months at a time outdoors, especially hanging out near the pool.
Our clients sometimes ask us how they can enhance the look of their pool surroundings, and the answer is hardscaping. Sprucing up or adding non-plant features to make your swim setting more inviting, attractive and useful pays big dividends in your enjoyment of this outdoor space.
Consider these five hardscape ideas for your pool area.
Fire Pit
Sitting back with a glass of wine or coffee at your fire pit is a great way to celebrate cooler evenings near the pool. Whether kids are still splashing in the water or you're just taking in the softly lit surroundings, a fire pit invites relaxation. There are many ways to approach building a fire pit.
Some people prefer a sunken, mostly enclosed area with built-in seating. Others want their fire pit to stand alone, so guests can pull up chairs, and the patio area remains more open at other times.
At GreenEarth Landscape Services, we can build you a fire pit that's gas fueled or one that uses firewood.
Fountain
The sound and sight of running water is relaxing as well as beautiful to view from the pool and patio. Fountains come in all shapes and sizes, so you can choose based on your available space, look and budget.
Fountains can be a centerpiece of the patio or yard area or placed off to the side in a quiet corner or near the fence. Some clients like water elements incorporated into the pool design, so the water flows directly into the pool.
Fencing
Fencing off the pool is a safety issue as well as an aesthetic one. Some of our clients ask us about options to add a fence when they have kids or grandkids on the way, to avoid accidental drownings.
The good news about pool fencing is that there are so many attractive options that also serve a practical purpose.
Of course upgrading the fences that separate your property from the neighbor's is another way to improve the hardscaping in your pool area. The backdrop you see in your yard makes a difference.
Trellis
It's a lot more comfortable to take a break between swimming sessions or just when enjoying outdoor time if you're in the shade. Trellises can be custom designed to fit your patio. Adding greenery like flowering vines, give the trellis a garden-like feel. Creative lighting in and near the trellis adds personality and mood, too.
Outdoor Kitchen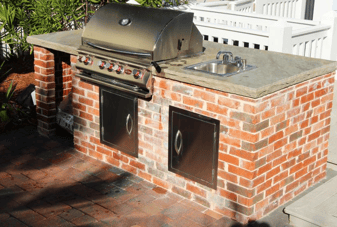 An outdoor kitchen can be large or small depending on the space available and your budget. Preparing your food outdoors and having a buffet space to serve it means spending more time outdoors with your family or guests, instead of trapped in the kitchen.
Most outdoor kitchens include a grill, which can be built into or accommodated in the design. Adding a small refrigerator means your drinks are cold and ready, and you don't need a cooler or extra ice.
Pool Hardscape Ideas Made Easy
At GreenEarth Landscape Services, we can help you visualize hardscaping projects that will make a positive difference in your pool area and yard. If you're thinking about making hardscaping improvements, we can help.
Give us a call at our Panama City Beach office at (850) 236-1959, or call our Santa Rosa Beach office at (850) 267-0010 to set up an appointment. You can also fill out the online form on our website to schedule a consultation. And to get the landscape or pool setting of your dreams, start by checking out our Landscape Planning Guide below.