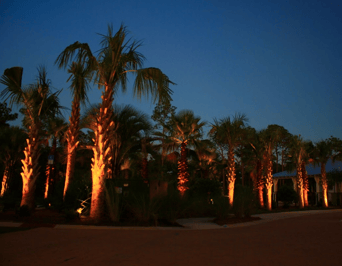 When our clients have us evaluate their property for landscaping improvements, usually they want us to come during the day. While this makes sense, it's important to evaluate the property at night too.
Why?
Whether or not your commercial property regularly receives visitors at night, for safety reasons it's important to have good lighting and the results are best seen at night!
Commercial Landscape Lighting Ideas
Here are five commercial landscape lighting ideas that will greatly improve pedestrian safety and peace of mind on and around your property.
Parking Lot Fixtures
Installing or maintaining tall parking lot fixtures is a great way to light up your parking lot. With good lighting in your parking area, your tenants and their customers will be able to see any obstacles in their way.
They'll also feel safer going to their cars because the lights will illuminate any other people in the parking lot, helping them to stay aware of their surroundings. Good lighting means they'll easily be able to enter their car as well.
Floodlights
Installing floodlights on buildings or trees not only illuminates the area where they're installed, but a distance out as well. These powerful lights cover a wide span, providing ample coverage for visitors to see. Floodlights can stay on full time during the dark hours, or you can install motion sensor lights which come on only when the light fixture detects movement.
Spotlights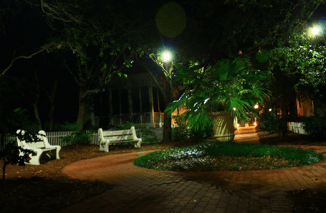 For a more concentrated light source in a specific area, try a spotlight. These are popular to highlight architectural features like a fountain, or specific landscape elements like a topiary or beautiful tree. Some people prefer to use spotlights as their pathway lighting as well.
While spotlights serve the purpose of illuminating a specific area, they double as safety features because the areas they light up are now visible to pedestrians, especially important so visitors can see where they're walking.
Wall Washing Or Uplighting
Have you seen a building with a subtle glow lighting up the building façade without the harshness of a direct light? This technique is called wall washing or uplighting, depending on the lights used and how far away from the building base they're placed. The technique is created by placing spotlights or a wide angle floodlight next to or a few feet from the building, facing up.
Wall Mounted Lighting
Bright lighting by the entrance to a building is a must for commercial properties. Wall mounted lights usually do the trick and can be an attractive addition to your building, while granting safe passage to visitors.
Decorative but functional sconce lighting is the perfect way to provide additional lights by the windows of your commercial property. Sconces come in many designs for outdoor placement. Not only do they look good, they provide a safety benefit by lighting up the window area, which deters criminal activity.
Let GreenEarth Illuminate Your Commercial Property For Safety And Beauty
If you think your commercial property could use some lighting improvements, let us help. We can talk to you about ways to improve pedestrian safety on your commercial property by adding or changing the existing lighting.
We can also work with you on energy efficient solutions and maximize the fixtures you're currently using. Give us a call at our Panama City Beach office at (850) 236-1959, or call our Santa Rosa Beach office at (850) 267-0010 to set up an appointment. You can also fill out the online form on our website to schedule a consultation.
Image: Fountain